What is Pickleball?
Pickleball is a racquet sport that combines some of the characteristics of table tennis, tennis and badminton. Pickleball is a sport that was invented in the mid-1960's and has grown in popularity over the past decade. The game can be played with two, three or four players who each hold a paddle made of composite materials or wood. As in many racquet sports, the paddles are used to hit a perforated ball, similar to a wiffle ball over a net.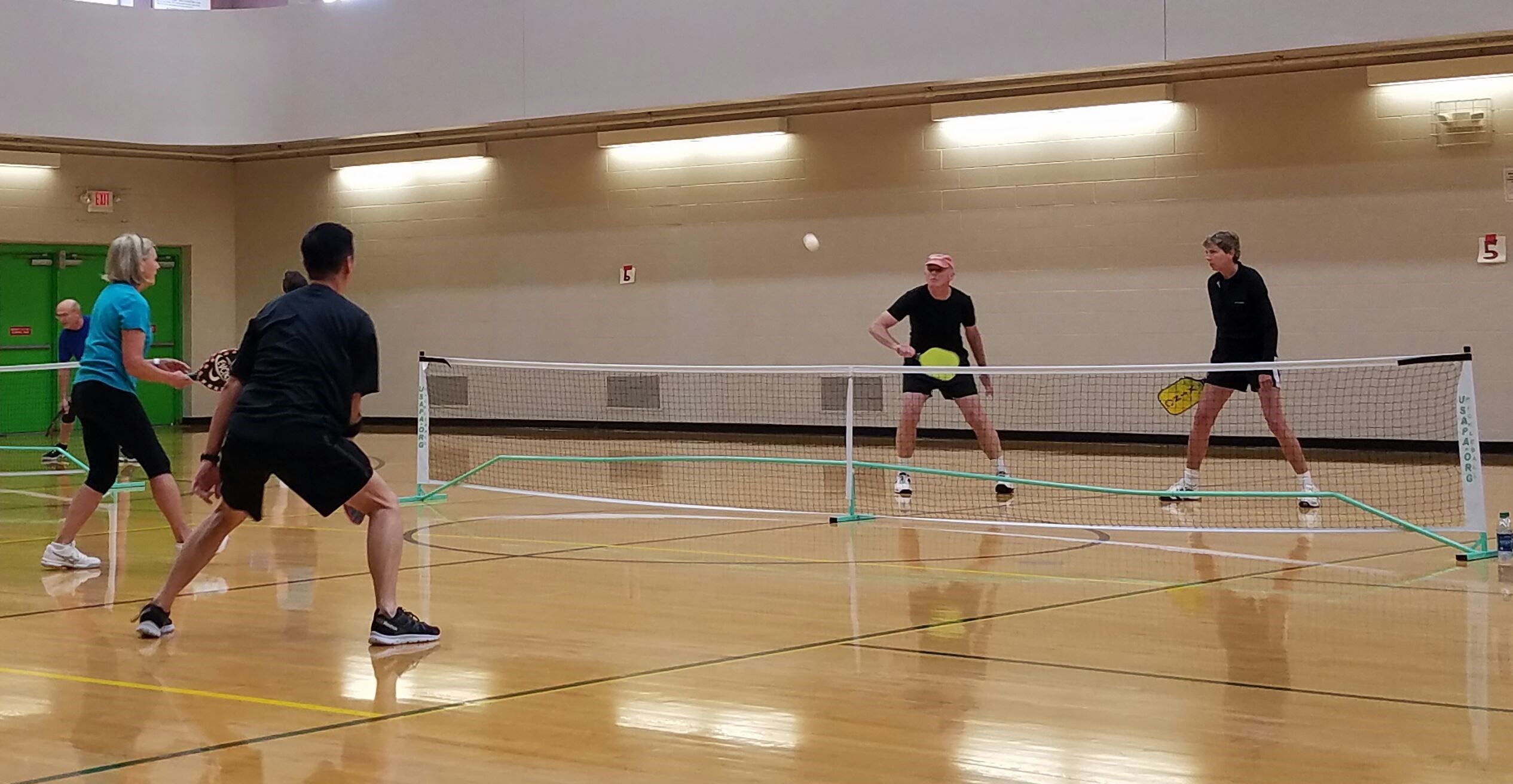 Information & Requirements
Players must bring their own paddle, water bottle and indoor gym shoes.
Only 24 spaces available per Group - NO Drop-ins or Sub Players permitted!
In order to reserve your spot, the Registration Fee must be PAID and a Program Registration Form must be completed. After the the maximum capacity of 24 is reached, a Waiting List will be created.
Prerequisites
These Pickleball sessions are open to players with prior knowledge of the game. Pickleball skills, rules or how to play the game are not taught during any of these sessions, so you need to know HOW TO PLAY in order to participate.
Click HERE to view the USA Pickleball Player Skill Rating that provides specific skills needed to achieve each level of player rating.
Guidelines
Click here to read the East St. Paul Pickleball Guidelines.
Winter Adult Pickleball - All Skill Levels - Registration is FULL. Please contact Melissa to be put on the Waiting List. Email her at recreation@eaststpaul.com
Date: Monday January 8 - April 15, 2024 (No session Feb.19 or Mar.25)
Time: 8:00 - 10:00 pm
Location: Robert Andrews School Gymnasium
Cost: $78 (for 13 sessions)
Spring/Summer Pickleball - information coming March 2024
How to Register - Registration is currently closed. Please contact Melissa to be put on the Waiting List. Email her at recreation@eaststpaul.com
1. Complete the Adult Registration form HERE
2. Watch for the auto-response email confirming your registration
3. Once we have met the minimum number of participants to move forward with the class, you will be sent an email to send payment. Payment is due BEFORE the first class.
How do I pay?
1. Send e-transfer to recreation@eaststpaul.com Use the password: RECREATION
2. In-person: Cash, debit or cheque to our Operations Dept located at 2801 Gateway Rd in East St Paul
The Operations Dept is open Monday to Friday from 8:30 am - 4:30 pm. (Note: We are closed on Stat Holidays)
Cheques can be made out to 'RM of East St Paul'

If you would like to pay after hours, please deposit your cheque into the grey metal drop box outside the front door of 2801 Gateway Rd. Do not leave cash.